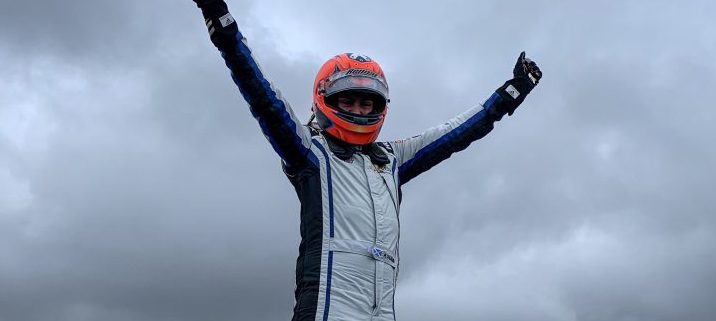 In a tense battle which went right to the final weekend for five separate championships, Robbie Dalgleish secured the once-in-a-lifetime drive at Daytona International Speedway in January as he was also crowned Mini Challenge Cooper Pro champion.
Coming into the past weekend (October 19/20), five different drivers remained in contention for the prize drive in IMSA's four-hour BMW Endurance Challenge at Daytona, in a Sunoco-liveried car, thanks to the Anglo American Oil Company.
At Snetterton, the final races for the F3 Cup, and the Mini Challenge JCW and Cooper Pro drivers helped the final standings take place. Despite podium finishes and championship titles for Cian Carey in the former, and James Gornall in JCW, neither managed to maintain their average point score to finish ahead of Kelvin Fletcher, whose GT4 title in the British GT Championship left him right in the mix.
With only partial points on offer in the Cooper Pro class, Toby Goodman also fell out of contention, leaving just series-rival Robbie Dalgleish and Fletcher in with a chance of the prize. However, with a second-place finish in the final race of the season, Dalgleish claimed not only the championship title but also the Challenge seat.
Robbie follows last year's Sunoco 240 Challenge victor Kyle Reid in claiming the drive after taking the Mini Challenge Cooper Pro title and will now begin preparations for a step into GT4 machinery around the fabled Daytona International Speedway road course.
The prize drive is available thanks to the generosity of the Anglo American Oil Company, which has helped a number of European racers enjoy a life-changing drive at Daytona. The entry fee from all Challenge hopefuls, as well as donations from members of the public, is given to Team Fox for Parkinson's Research, a worthy cause.
Final Sunoco 240 Challenge standings (average points per race):
Robbie Dalgleish (Mini Challenge Cooper Pro): 98.53
Kelvin Fletcher (British GT Championship – GT4 Am: 96.36
James Gornall (Mini Challenge JCW): 95.58
Rob Keogh (Ginetta G40 Cup): 94.71
Toby Goodman (Mini Challenge Cooper Pro): 94.00
Robbie Dalgleish, 2019 Sunoco 240 Challenge winner
"At the start of the year we said we wanted to win the Mini Challenge, Scottish Mini Cooper Cup, and the Sunoco 240 Challenge, but that wasn't really realistic, yet we've gone and done it!
"It was such a tense weekend – everything that has gone on has been crazy. If someone had said 'you'd write a car off, get a spare car, all the politics…' you wouldn't believe it, but we've got the result. I have to give a big shout out to the team, my dad has set up the car, my mum has supported me so much, and my sponsors Evolution BPS without whom we wouldn't even be racing.
"I am ecstatic to win the Sunoco 240 Challenge. I just have to let my new job know that I'll be off to Daytona in January!"
Anders Hildebrand, Anglo American Oil Company Ltd
"We have another Mini Challenge champion! Sometimes you might think we want someone from another series, but it demonstrates that the winners of the Cooper Pro class are really good and that they can make the jump from the low-powered Mini to a GT4 car without any problem.
"I've been impressed with Robbie's racing this year. He doesn't make mistakes and that is how you win championships as well as the Challenge and his consistency and speed have been impressive all season long. It will be great to have another group of mad Scottish people along with us in January too!
"This prize is something to give back to the racers. I know how hard it was when I raced myself, so to win something like this where you go to another continent and race a car with a new team is quite an experience. It is all paid for, the flights, licence, race suit, everything. It is a life-changing prize that the drivers will never forget, even if they don't go any further in their career."
To find out more about the Sunoco Challenge please visit: http://www.sunocochallenge.com/
To find out more about Team Fox, the grassroots community fundraising program of The Michael J. Fox Foundation, please visit: https://www.michaeljfox.org/teamfox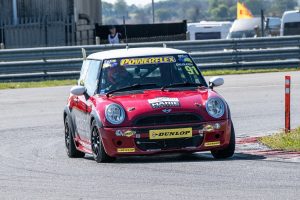 What are the Sunoco Challenges?
The Sunoco Challenges provide an accurate assessment and comparison of performances across multiple championships during any given season. Points are awarded for qualifying and race results, including fastest lap, which are then converted into an individual average score for each competing driver over the course of a full campaign.
That means each race weekend offers drivers an equal chance to climb and drop down their respective Sunoco Challenge table. It also ensures that performances are taken into consideration across an entire season while placing less emphasis on one-off or unfair results.
This year's Sunoco Whelen Challenge champion will win a fully-funded race seat at the 2020 Rolex 24 At Daytona, courtesy of Whelen. Sunoco's 240 Challenge champion will contest Daytona's 240-minute BMW Endurance Challenge support race held over the same January weekend at the wheel of a Sunoco-supported GT4 car.
The Sunoco Challenges are organised by Sunoco Racing Fuels' official European distributor, Anglo American Oil Company Ltd.
Sunoco Whelen Challenge-eligible series:
BRDC British Formula 3 Championship
British GT Championship – GT3 Pro and GT4 Pro
Sunoco 240 Challenge-eligible series:
British GT Championship – GT3 Am and GT4 Am
F3 Cup
GT Cup Championship
Mini Challenge – JCW and Cooper Pro
Radical UK Challenge
Ginetta GT5 Challenge
Ginetta G40 Cup
Touring Car Trophy / TCR UK
https://www.sunocochallenge.com/wp-content/uploads/2019/11/Robbie-2.jpg
477
716
Tom Baker
http://www.sunocochallenge.com/wp-content/uploads/2018/03/sunoco-challenge-logo-head.png
Tom Baker
2019-10-21 11:31:33
2019-11-07 14:40:38
Robbie Dalgleish wins Daytona drive after season-long battle goes to wire