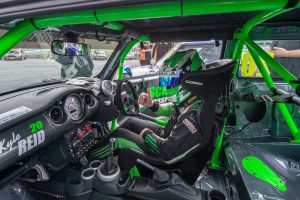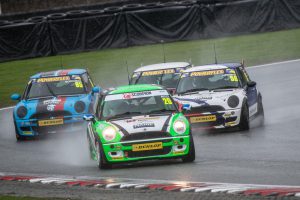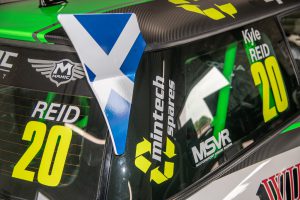 Kyle Reid has won the Sunoco 240 Challenge after wrapping up the Mini Challenge Cooper Pro class title at Rockingham last weekend (September 28/29). The 29-year-old Scot, who hails from the Highlands, will now travel to the legendary Daytona International Speedway this coming January to compete in the Rolex 24 At Daytona support race.
Reid's final score of 105.91 reflects a dominant 2018 campaign that resulted in one of the junior Sunoco Challenge's highest-ever average totals. Indeed, he has remained a permeant fixture at the top of the standings all season long despite the best efforts of Steve Burgess whose hopes of winning the prize were ended during a difficult Radical UK outing at the same venue yesterday.
The scale of Reid's achievement is even more impressive given his day job in South Africa means he must fly to every Mini Challenge round, while his team – SCK Motorsport – travel the breadth of Britain from their base in Scotland.
Reid follows in the footsteps of another Mini Challenge Cooper Pro champion, Max Bladon, who won the Sunoco 240 Challenge in 2016. Like Bladon, Reid can now look forward to a fully-funded outing in the Michelin Pilot Challenge's four-hour endurance race at the wheel of a GT4-spec supercar on January 25th, 2019.
Meanwhile, the senior Sunoco Whelen Challenge will be decided on October 13/14 when BRDC British F3 Championship protagonists Linus Lundqvist and Nicolai Kjaergaard attempt to overhaul current leader Phil Keen.
Kyle Reid, 2019 Sunoco 240 Challenge winner: "I'm speechless; I mean this sort of thing just doesn't happen to a lad from the Highlands who races a Mini! Obviously, I've been keeping tabs on the 240 Challenge and knew I had a good chance but it's not something you think about during a weekend when the primary focus is on winning races and the championship, which we managed to do at Rockingham. So, to get the call from Anders [Hildebrand] saying I'm going to Daytona, well, that's just incredible! Sure, it's a big step, but Max Bladon proved that it needn't be too daunting. Daytona is an incredible race circuit that not many Europeans ever get a chance to compete on. It's beyond my wildest expectations!
"There are a lot of people and sponsors without whom I couldn't have achieved this: Tim Sleigh, Barry Homes, my Mum, Dad and my wife Laura, have all been so incredibly supportive, while William Nicol, AK System Solutions, Paint Technic, Mintech Spares, RAM Tubulars, Ocean Rig Skyros and Smart Air Solutions have been there every step of the way. A huge 'thank you' to all of them!"
Anders Hildebrand, Anglo American Oil Company Ltd: "I'm delighted that Kyle Reid has won the 2019 Sunoco 240 Challenge crown following another impressive performance at Rockingham. Kyle becomes our eighth 240 winner and second from the Mini Challenge Cooper Pro series in three years. Switching from a Mini to racing a GT4 supercar around Daytona's legendary oval might seem like a daunting prospect but I've no doubt whatsoever that Kyle can do extremely well. After all, the 240 Challenge is designed to showcase the talents of young drivers that wouldn't ordinarily have the chance to race in America. Our first Cooper winner, Max Bladon, was right on the money and raced impressively at Daytona, so there's no reason why Kyle can't do the same in January."
Antony Williams, Mini Challenge: "It is fantastic news that Kyle Reid has won the Sunoco 240 challenge and will be following in the footsteps of previous Cooper Class winner Max Bladon in representing the MINI CHALLENGE at Daytona. Kyle has been incredible this year, winning more races than any other Cooper Pro class driver and being a gentleman along the way. Congratulations to him and we very much look forward to hearing how he gets on racing in the USA"
https://www.sunocochallenge.com/wp-content/uploads/2018/10/42763978_10217749492558162_8569386051116728320_n.jpg
640
960
Nick Portlock
http://www.sunocochallenge.com/wp-content/uploads/2018/03/sunoco-challenge-logo-head.png
Nick Portlock
2018-10-01 14:03:17
2018-10-01 16:17:58
Mini Cooper Pro Challenge Champion Reid Wins Sunoco 240 Challenge & The Daytona Prize Drive