Christmas Has Come Early For The Young "Super Swede" Joining Precision Performance Motorsports Lamborghini Huracan GTD For Daytona Rolex 24 Hours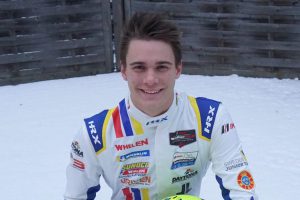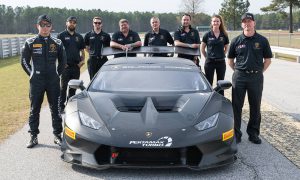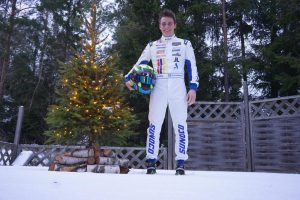 Anglo American Oil Company Ltd, distributors for Sunoco Race Fuels, are today delighted to announce that Linus Lundqvist, winner of this season's Sunoco Whelen Challenge, will be joining Precision Performance Motorsport, for the 24 Hours of Daytona, January 26-27, 2019.
2018 British BRDC F3 Champion Linus Lundqvist will be driving in the all new Lamborghini Huracan GT3 Evo in the GT Daytona class.
AAOC Managing Director, Anders Hildebrand explained the reason for the team and class selection, "When the first Sunoco Daytona Challenge was put together by Anglo American Oil Company it was thanks to the support of Jim France who wanted to increase the international awareness of the Rolex 24 At Daytona. Today, ten years later it seems ridiculous that the Rolex 24 star-packed grid has not always been a massive international race on the bucket list of every racing driver.
The Sunoco Daytona and Whelen Challenge winners have brought talent, speed and excitement to the race and not disappointed the teams they raced for. 2018 Sunoco Whelen Challenge winner Stuart Middleton bettered Felipe Nasr's Challenge winners' previous third place record by taking the chequered flag in second overall – quite a feat!
For the last four years, thanks to support from Sonny Whelen of Whelen Engineering, we have been placing the Sunoco Whelen Challenge winner in the #31 Whelen sponsored Action Express run Cadillac DPi race car. However, with the increasing level of competitiveness in the top class we feel that the pressure imposed on our winner will take out the enjoyment of this, maybe once in a lifetime experience. Sonny and I therefore decided for 2019 that we should place our winner in the GTD (GT3) class which has a mix of PRO and AM drivers and a class that would really make our Sunoco Whelen Challenge winner shine.
Our tenth Sunoco Whelen Challenge winner and 2018 British F3 Champion Linus Lundqvist was amazing in the British F3 Championship. Having followed him and seen him race this season I'm confident that he will do us proud with his race craft and speed. 
I'm extremely pleased that we are going to race with the North Carolina based Lamborghini race team Precision Performance Motorsports. I've worked with Team Manager Sunny Voelker previously through the Sunoco 240 Challenge programme and know she runs a very good team. I'm also super confident that Linus will do extremely well behind the wheel of the new Lamborghini GT3 Evo and maybe, maybe we could better Stuart's last year record by winning the class!".
Precision Performance Motorsports Team Manager, Sunny Voelker said, "Having a talented young driver like Linus join our Rolex 24 driver line-up is a massive win for PPM and complements our focus on driver development, and of course it's an honour to campaign the long-standing Sunoco Whelen Challenge program. ".
A delighted Lundqvist added, "I am really excited to have everything confirmed, I can't wait to get on that plane and fly across the Atlantic to race in the States for the first time. It's going to be a real adventure! I'm super happy to be given the trust and opportunity to drive the Lamborghini GT3 Evo for Precision Performance Motorsports at Daytona! It will be a lot to learn considering it will be my first endurance race but I'm going to do my best and try to learn and enjoy it as much as possible. I also want to say a special thank you to Sonny Whelen, because without him and Whelen Engineering, this opportunity wouldn't be possible.  Also, a big thank you to Eva and Anders Hildebrand and everyone at Anglo American Oil Company Ltd. I'm super proud to be one of the Sunoco Whelen Challenge Winners."
Precision Performance Motorsports Team Overview:
Precision Performance Motorsports has established itself as a leader in the sport on and off the track. 2019 will mark the 16th year of full-time operation. They operate the race team as a business with a focus on accountability and results, while building long-term partnerships with drivers and sponsors through open and honest communication and by learning more about their objectives. PPM previously fielded race cars in the NASCAR XFINITY Series and K&N Pro Series. Currently PPM fields sports cars in the Lamborghini Super Trofeo, Pirelli World Challenge and WeatherTech series. PPM provides a comprehensive driver development program, race car rentals, setup, test consultation, and driver coaching. Current inventory includes 4 Lamborghini Huracán Super Trofeo Evos and 2 Lamborghini GT3.
PPM joins IMSA WeatherTech family with Lamborghini Huracan GT3
With their first successful season of sports car racing behind them, Precision Performance Motorsports (PPM) has made the commitment to take the next step up the ladder with Lamborghini Squadra Corse and will campaign a brand-new Lamborghini Huracan GT3 Evo in the GT Daytona class of IMSA's WeatherTech Championship. The fresh machinery is slated to run both the Endurance and Sprint Championships.
"We had a really great year in 2018, which, in turn, has garnered a lot of positive attention and interest," says Team Owner, Rick Gdovic. "Naturally, we have to grow our program with that interest. We felt it best to continue putting our energy, focus, and commitment into racing with Lamborghini. We'll continue with Super Trofeo, as I feel that is one of the best racing platforms in the paddock and with the strong partnership and support of Lamborghini, we'll also take the step up to WeatherTech and GTD in 2019."
PPM has been racing for 16 years, primarily in NASCAR ranks, operating out of their 16,000 sq. ft. shop in China Grove, NC; outside of the racing capital of America, Charlotte, NC. 2018 was the team's first year contesting sports car racing. Their inaugural sports car campaign included 3 overall pole positions, 1 overall win, multiple podiums in the Pro, Pro-Am, and Am classes of Super Trofeo, a GT3 podium in the SRO Intercontinental GT Challenge, and a track record at Road America.
"We have a great team made up of some very talented people who have shown we can put together a high quality, competitive race program. I have full confidence with Team Manager, Sunny Voelker at the helm that we can do bigger and better things in 2019 with Lamborghini." finished Gdovic.
PPM's driver line-ups for both WeatherTech GTD and Super Trofeo will be announced shortly. PPM has driving and sponsorship opportunities for both Super Trofeo and GTD races for 2019 available.
The first event for IMSA's WeatherTech Championship is the illustrious 24 Hours of Daytona, January 26-27, 2019. Lamborghini Super Trofeo North America kicks off at the breath-taking Barber Motorsports Park April 5-7, 2019.
https://www.sunocochallenge.com/wp-content/uploads/2018/12/LinusRacesuitsnow1.jpg
1016
1044
Nick Portlock
http://www.sunocochallenge.com/wp-content/uploads/2018/03/sunoco-challenge-logo-head.png
Nick Portlock
2018-12-21 16:04:12
2018-12-21 17:25:19
"Super Swede" Lundqvist Joins Precision Performance Motorsports New Lamborghini Huracan GTD Evo For Daytona Rolex 24 Hours