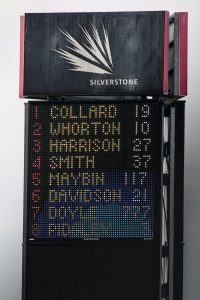 Jordan Collard took his first win of the 2018 MINI Challenge JCW campaign at Silverstone. The MINI UK VIP driver was on-form and fought his way back to the lead despite a poor start off the line.
A clean opening sector was soon shattered when a number of cars found each other at Club. George Sutton punctured his rear tyres but limped back to the pits without losing a lap, but retirements for Rory Cuff and Steve King brought out the safety car.
Despite starting third, Ant Whorton-Eales made a lightning start, taking the lead into the first corner, controlling the restart, as polesitter Collard hounded the leader. The threat was soon eradicated though as Collard's failed overtake into Club put him behind Nathan Harrison and into chasing pack.
Ant failed to break away though, as Collard came back, retaking the lead into Luffield. This closed up the group with Rob Smith and Jac Maybin making up the leading quintet.
Collard though finally got his break, pulling away in the final two laps to take the win by 1.8 seconds. Rounding out the podium would be Whorton-Eales and Harrison, with the trio now establishing themselves as the championship leaders.
Smith would lead home Maybin with the latter continuing his strong run of results from Snetterton. Rounding out the top eight would be Ollie Pidgley, some five seconds behind, as he held off Louis Doyle and Jack Davidson.
"I think I did the most I could, putting it on pole gets me a few extra points." said Collard. "I knew Ant was going to be quick so I had to finish in front of him. He's grown a few points on me in the championship recently, but the next few weekends I hope I can draw some back and make it closer at the front."
"Ant's one of those rare drivers that's hard but very clean, we must have been side-by-side for about half a lap. It was a 'close your eyes and hold your breath' moment, but overall it was a mega race."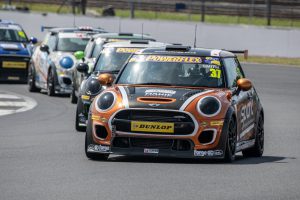 Race 2
In a shortened second MINI Challenge – JCW race at Silverstone, it would be Rob Smith who survived the affair to come out on top, taking his first win of the year with MINI UK VIP.
The second MINI race of the weekend started with a dramatic circumstances as Jac Maybin hit Ollie Pidgley on their formation lap. Maybin broke his front right tyre and was out almost immediately while Pidgley was forced to start from the pits, with rear left damage.
Even with the missing second row, the start was still a dramatic affair, as Jack Davidson after taking the lead into the first corner, lost control at Maggots, spinning into the gravel. This upset Jordan Collard behind, with the MINI UK car taking a trip across the grass at Becketts.
Polesitter Brad Hutchinson didn't have it any easier either, dropping back behind the charging Smith as he too fell into the pack.
With an extended safety car, the race came down to a final lap shootout, as Smith held on to his advantage for his first win of the year. It proved to be a surprisingly regular podium set as Ant Whorton-Eales led home rival Nathan Harrison due to both avoided the drama in the opening lap.
Despite his off, Collard charged from eighth to fourth in the final lap ahead of Henry Neal, who will pleased to have recovered after his disaster of a Saturday. Lewis Brown started outside the top ten, but eventually moved up to sixth ahead of Hutchinson as David Robinson rounded out the top eight.
https://www.sunocochallenge.com/wp-content/uploads/2018/06/20180609_Silverstone-JCW-R1_051_preview.jpeg
1366
2048
Nick Portlock
http://www.sunocochallenge.com/wp-content/uploads/2018/03/sunoco-challenge-logo-head.png
Nick Portlock
2018-06-11 15:15:39
2018-06-11 15:15:39
First Win Of The Season For Collard & Smith In JCW's